At long last, a fabulous sunny day--just in time for the MA Sheep and Woolcraft Fair! My plans for the day were almost derailed by a sick toddler who refused to sleep last night. However, I managed to sneak her in to the pediatrician as soon as the office opened this morning. After picking up the antibiotics for her ear infection, I promptly handed her to DH and set off in the car, alone with coffee and my audio book. I missed breakfast at Cate's house, but arrived at the festival in plenty of time to check everything out. I spent much of my day just wandering aimlessly around the small fairgrounds, soaking in the sun and the sheepy smells and the friendly atmosphere.

At the first booth I visited, I ran into Teresa. I had never met her before, but I thought she looked familiar...and then when I saw her beautiful blue shawl I realized who she was. I think she was a little freaked out that I recognized her. But, thankfully, she didn't run away. In fact, she and her friend were quite pleasant. I met up with them several times during the day, but I never did get to check out their purchases, so I'm anxious to see what appears on her blog in the next few days.

The next person I ran into was "the other Katy", a local knitter who I met at Stephanie's booksigning in early May. Katy is (as of yet) blogless, and when she introduced herself to someone that night, she was asked, "Oh, are you the Katy with the blog?" And she replied, "No, I'm the other Katy." However, lest you think that "other" denotes "lesser", Katy is actually a much more creative knitter than I am, as you can tell by the felted bag that she designed. And today she was using a very cool bag that she knit using strips from colored plastic bags.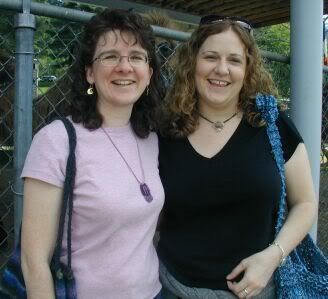 The very cool thing about this picture is that if you click here for a larger version, and you look right between our heads, you can just see the eye of the camel--yes, camel--who is staring through the fence. It's a bit freaky.


Throughout the day I kept bumping into Cate, her two adorable children, and her
entourage
of
knitting
friends
. Instead of buying lots of yarn, I stalked Cate with my camera.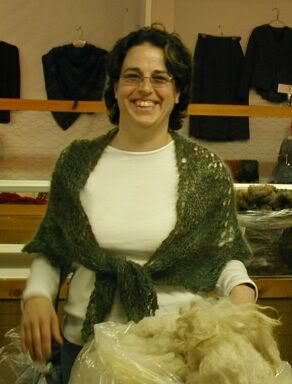 Here she is looking at fleeces. (Hey Cate, do you
really
need another fleece???)
Part of the fun of fiber festivals is watching other people walk around with huge bags full of fleeces and rovings and yarn. I mean, it sort of normalizes the whole fiber obsession thing. So, just in case my purchases were not enough to satiate you, check out
Risa's
stroller, complete with attached spinning wheel: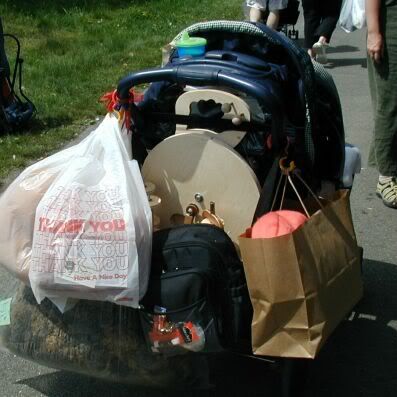 Mind you, there are also twin toddlers in the front of the stroller. This woman knows how to work a fiber festival.
I also spent some time with some blogless friends, patted some angora bunnies, ignored the call of sock yarns, and bought some maple syrup.
It was a very good day.
I should mention that I have attended this wool festival twice in the past, and both times I did not recognize a single person. This time I felt like a social butterfly, thanks to blogging. I can't wait to meet more folks at Rhinebeck in the fall!