Last night I had the joy of traveling to the Fiber Art Center in Amherst, MA, where I spent a couple of hours in Stephanie's Alternate Universe. There were cool exhibits, cool knitters (bloggers and nonbloggers alike) and, afterwards, some cool fried pickles. (I never knew there was such a thing.)

This felted couch was just about the coolest.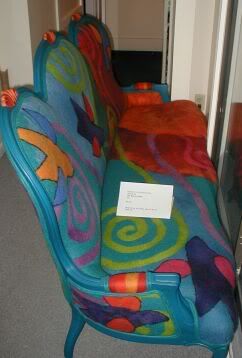 Mamacate and Adrienne and I had a brief discussion about what it might look like after an afternoon with our children and their various snack foods. (This is how mothers of young children get to know each other.)

Stephanie was as funny and charming in person as you might expect from reading her blog. I brought her the Yarn Hare-lot that I made a while back, although she wasn't sure she still wanted it after I mentioned the voodoo overtones of needle felting.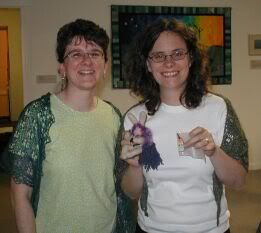 After the book signing I went out with Stephanie, Cate, Adrienne, Hippygoth (and her friend whose name I never got) and Marcy, and we spent a lot of time laughing (and meeting up with Morris Dancers, which was a bit surreal).

It was a bit strange to meet some blogging acquaintances, but also very fun. And on the drive home I thought a lot about what made the evening so enjoyable. Because yes, the company was great, but it was more than that. For me, knitting is often a solitary endeavor, and although I've recently made some great new knitting friends, I don't often get the chance to spend time with a group of interesting and creative people who understand my obsession (and my yarn stash). So last night was a little like coming home to a place where I'm understood. And while Stephanie's book is great, I think that her true gift to us may just be the knitting communities, both small and large, that she is helping to nourish and to create. Her book signing was the impetus for me to visit a new place and make contact with folks whom I hope to meet with again. So thanks, Stephanie, and best wishes on the rest of your tour! (And feel free to put the hare-lot in the linen closet if she freaks you out. I'll understand.)