I really don't know how all the amazing knitblogger/mommies (like
Kerrie
and
Alison
) get so much done when they have little ones around. I just cannot seem to juggle everything. I didn't get much knitting time this week. My one year old and my husband both had the stomach flu. Work is nuts, and I had to cancel our babysitters both days that I was supposed to go to the office, so I had to try to work from home with both kids underfoot. So, instead of a picture of my knitting progress, I have a picture of me trying to knit: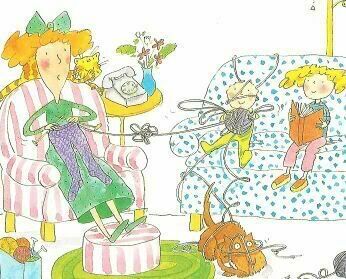 This illustration is from one of my children's favorite books,
The Lady With The Alligator Purse,
adapted & illustrated by Nadine Bernard Westcott.
This page makes me laugh every time I read (sing) it.
I did get a few minutes of knitting time this afternoon. DH was still at home recovering, so while he and the baby took a nap, I took my preschooler to see the new Pooh movie, "Heffalump." I figured it would be a bit boring for grown-ups, so I brought along the beginnings of a Sophie bag and I finished the bottom of it while watching. I was pleasantly surprised by the movie, though; it was actually fairly cute and uplifiting, with some fun music, and it presented a bit of a parable about xenophobia. Depending on your view of the current political situation, you could probably draw some interesting analogies. I think that Kerstin could do a great parody of it on her blog.

Off to hang out with Clapotis (and to pray that I am not the next victim of the stomach flu).