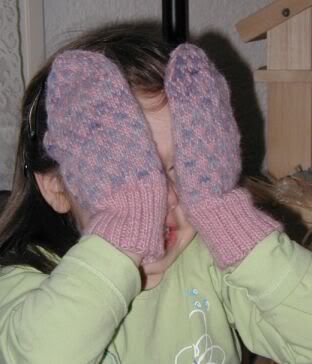 Zoe's mittens are finally finished and--better yet--she actually likes them. Hooray!

The pattern is Chipman's Block from Fox and Geese and Fences.* While I love this book, the patterns are not always the easiest to follow, and I don't like the way the decreases are done. If I made another pair, I would make some changes so that the decreases are symmetrical rather than all "k2tog".

The pink yarn is Brown Sheep Lamb's Pride, the handpainted wool is from Little Turtle Knits.

*For those of you who aren't quite ready to spend $52 on an out of print knitting book, check out her new book which will be printed in October 2005.