My blog has been on a bit of an unofficial hiatus for the past several weeks, due to holiday madness. I'm hoping that January will bring me some knitting time (as well as blog reading and writing time) and I can actually create some projects that won't bore readers to tears. This should be helped along by the fact that we are FINALLY going to have a DSL connection. Much to our dismay over the past year, DSL was not available in our urban, middle class neighborhood until last week (although my parents could get it in the middle of nowhere--go figure). Writing a blog via dial-up is a rather frustrating endeavor, so a speedy connection would certainly increase my blogging motivation. We have signed up and ordered our DSL equipment, but we are actually still awaiting confirmation that our neighborhood phone lines can handle it, so keep your fingers crossed.

Although I had a wonderful holiday season, I must admit that I did not receive a single knitting related gift (unless cash counts, lol). Was I depressed about this? No, as I have more than enough stash yarn, and I needed other things/toys. Like this: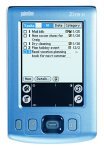 My new love--a PalmZire 31
I guess this could count as a knitting related gift, since I plan to create some databases to keep track of my knitting tools and projects. I have been eyeing the KnitAble PDA software but it's a bit out of my budget at this point....maybe Santa can bring it next year.
Any hints on PDA use and knitting are greatly appreciated.